Congratulations to Associate Professor Emeritus Fred Graham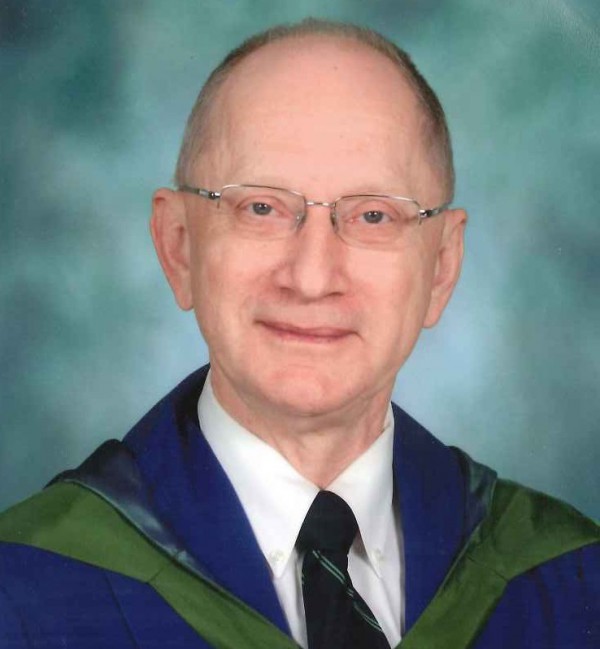 Fred Kimball Graham was presented with the Distinguished Service Award at this month's biennial National Organ Festival convocation ceremony in Hamilton. Graham has been a member of the Royal Canadian College of Organists (RCCO) since 1966. The citation, read by RCCO national president Dr. Peter Nikiforuk, paid tribute to Graham's many contributions to church music through hymn tune writing, hymn editing, workshops throughout Canada, organ recitals in Canada and beyond, and local involvement with colleagues in the RCCO in the Atlantic Region, Ottawa and central Ontario.
A native of the Durham Region east of Toronto, Graham is Associate Professor Emeritus of Church Music of Emmanuel College (2001-12). During his tenure, he taught the compulsory course in hymnology in the Emmanuel curriculum, acted as interim registrar, as basic degree director, and dean of chapel. In 2008, Graham was appointed founding director of Canada's first Master of Sacred Music (MSMus) Program, offered through Emmanuel College in collaboration with the Faculty of Music, University of Toronto. Thanks to a generous gift from Deer Park United Church, the Deer Park Professorship in Sacred Music was established about the same time.
In 1967, Fred completed the undergraduate Music Education program at Toronto, additionally achieving the Royal Conservatory gold medal (ARCT-Organ) guided by his teacher, Dr. Charles Peaker. That was followed by organ study in Germany with Michael Schneider in Cologne and later with Karl Hochreither in Berlin. On a Canada Council grant, Fred received advanced conducting instruction prior to studying music for children (Kodaly) in Budapest. En route to Canada, he successfully completed requirements for the Fellowship in the Royal College of Organists in London. He has taken an active role in RCCO Centres in Ottawa, Halifax, Toronto and Waterloo-Wellington, and has presented organ recitals in Ontario, New Brunswick, Nova Scotia, as well as in Germany, England and the USA.
His career also included teaching elementary and high school classes in Ottawa and later in Rothesay, NB. In 1978, he was appointed music director at All Saints' Anglican Cathedral, Halifax, followed closely by appointments to the music faculty at Dalhousie University and the portfolio for church music at the Atlantic School of Theology (AST). During this period, he completed the master's degree in four summers in Organ Performance and Literature at the Eastman School of Music in the studio of Russell Saunders. Inspired by his experiences at AST, he and his family moved to Madison, NJ to undertake the PhD in Liturgical Theology at Drew University. His graduate thesis (published by Scarecrow Press) focussed on hymn tunes of the 19th Century in the Methodist Episcopal Church, USA.
For fourteen years, he was the Worship and Music Officer of The United Church of Canada with an office at the General Council, editing print materials such as Voices United (1996) and travelling to many corners of Canada to offer regional workshops. As a representative of the United Church, he was actively involved in the development of the Revised Common Lectionary (1992) and authored the definitive annotated version of the RCL (2012). In his spare time, Graham held various church music positions in the Toronto area (Grace Church on-the-Hill, Humbercrest United, Islington United, Eglinton St. George's). In 2012, he was awarded the Davidson Trust Award for Excellence in Theological Teaching, and in 2014, was made an honorary Fellow of the Hymn Society in the USA and Canada in recognition of his contribution to hymn singing, hymn composition and congregational life. He is a member of the North American Academy of Liturgy, Societas Liturgica, The Hymn Society in the USA and Canada, and the RCCO.
Graham is married to Melva Treffinger Graham, former music director at Grace Church on-the-Hill (1986-2011). In semi-retirement, Fred acts as lay worship leader in Shining Waters Region of the United Church, and as a musician in congregations that request temporary leadership. In 2020, he and Melva retired to Oshawa.