2020 Distinguished Alumni/ae Award: HyeRan Kim-Cragg Emm 0T6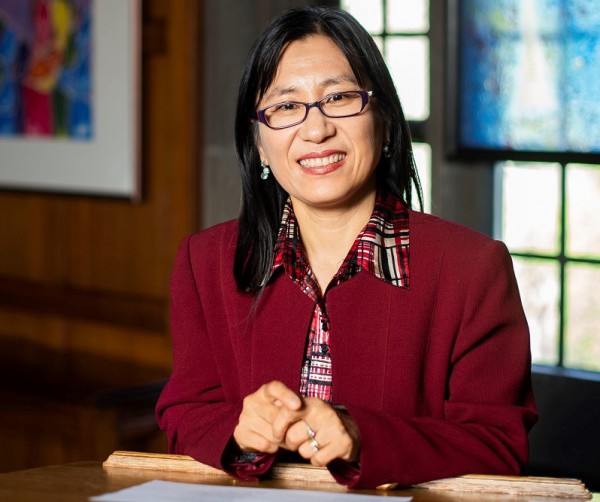 The Emmanuel College Alumni/ae Association (ECAA) has named the Rev. Dr. HyeRan Kim-Cragg Emm 0T6, Timothy Eaton Memorial Church Professor of Preaching, the 2020 winner of the Distinguished Alumni/ae Award for her impressive achievements in preaching and religious education, including postcolonial, feminist and anti-racist theories to address the urgent issues of our time.
For Kim-Cragg, it has always been imperative that academic work extends beyond the academy and "even beyond the church itself" to address issues of social importance in the real world. A true vocational gift, she stresses, is the ability to bring about social justice while exalting God. As a practical theologian who places postcolonial and feminist thought at the centre of her homiletics and religious education, Kim-Cragg uses an intersectional approach in her preaching, research and pedagogy that centers on race, ethnicity, class, gender and sexual orientation. She feels honored and privileged to be part of such a forward-thinking school as Emanuel College. A postcolonial and intersectional approach, she argues, is important, as our students "have come from all over the world, and their lives have been directly and indirectly impacted by colonialism."
Kim-Cragg believes that a thorough examination of the Church's colonial history should be "the responsibility of Christian theology," as the Church has advanced cultural imperialism and Christian supremacy throughout its past. We also need feminism to counter the misogyny that continues to be promoted under the guise of Christian mission in many parts of the world. As hundreds of unmarked graves of Indigenous children have recently been located on the former grounds of Canada's residential schools, it "is a critical case in point that the hidden past haunts the present," forcing us to ask, "How do we preach about it?"
Kim-Cragg sees education as "sacred and sacramental" because it can build on human dignity by paying attention to the situated realities, particular subjectivities and lived experiences of our students. In her pedagogy, she strives to bring students to an understanding of how "their own kind of leadership [can] serve the world" by questioning that which has been obscured from view, and by recognizing the partiality of knowledge and the multiplicity of truths.
In advocating for a postcolonial pedagogy, Kim-Cragg is interested in breaking new ground by examining the "[. . .] concentric circles of community within which we all live," circles of interdependence that cross the lines of "family, church or faith communities, nation, religion […] and the planet Earth, the biggest circle within which all living things find themselves." She insists that paying close attention to what is happening locally, nationally and globally is an integral part of a postcolonial, feminist and antiracist homiletics and religious education.
In August 2021, Emanuel College's Centre for Religion and Its Context will be hosting the inaugural "Rethinking Preaching" Conference, conceptualized and organized by Kim-Cragg. She hopes that the conference will become a regular event, "because there is no universal way to preach a sermon. Each sermon is shaped not only by the preachers but also by the hearers and the context." Kim-Cragg reminds us that preaching needs to be constantly rethought, especially in the present global contexts of the pandemic and anti-racist struggles. Through keynote talks, panel presentations and workshops, conference participants will provide insights into the best preaching practices to address issues pertaining to gender and racial inequities, ecology, illness, and the use of online technologies. The conference will also explore more embodied ways of preaching and the role that storytelling might play in homiletic practices.
Watch the full interview: