Isabel Bader: A Champion of Education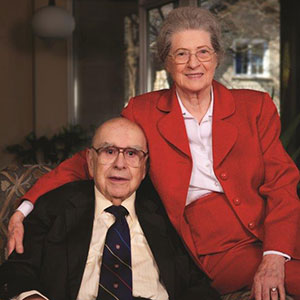 Victoria University in the University of Toronto joins the academic and arts communities in mourning Isabel Overton Bader Vic 4T9, Hon. 9T5, who died on August 28, 2022, at the age of 95. Bader was the beloved wife of Alfred Bader and an alumna, friend, and major benefactor of Victoria University in the University of Toronto.
Dr. Bader was recognized internationally as a generous philanthropist and was especially devoted to education. Along with Bader Philanthropies, she supported Victoria University in the University of Toronto and Queen's University, always taking a keen interest in providing students with the best resources for learning.
A reflection of her time as a student at Victoria College inspired Bader to support access to education at her alma mater by funding extensive student scholarships and bursaries, including $400,000 to the Opportunity Awards which are offered to students from under-represented or at-risk groups. A $6 million landmark gift in 1998 resulted in the Isabel Bader Theatre, a state-of-the-art purpose-built facility that serves as a lecture space and hosts concerts, film festivals, plays and other performing arts events, which was also a passion of the Baders.
"There is no other name more closely associated with philanthropic leadership at Victoria University - the impact that both Isabel and Alfred Bader have made is unmatched. We are profoundly grateful. Isabel and Alfred's legacy will be felt for many generations of Vic students," said Dr. Rhonda McEwen, president and vice-chancellor, Victoria University in the University of Toronto. "The Victoria University community extends its deep condolences to Isabel's family and loved ones."
Other student-centered initiatives supported by the Baders include $1 million to support Vic's innovative, undergraduate research program, Scholars-in-Residence and supporting students who wish to study at Herstmonceux Castle, a remarkable building in England they gifted to Queen's. "Isabel was such a good friend to Victoria College and she had a positive effect on the lives of many students," notes Victoria College Principal Angela Esterhammer Vic 8T3. "She championed a vision of liberal education and helped us provide student opportunities that deepened their understanding and imagination of the role they play in a healthy society."
Bader received an honorary doctor of sacred letters from Victoria University in 1995 in recognition of her generosity and many contributions. Victoria University published a collection of love letters between Isabel and Alfred titled A Canadian in Love, which was a special limited edition of 1,000 volumes.