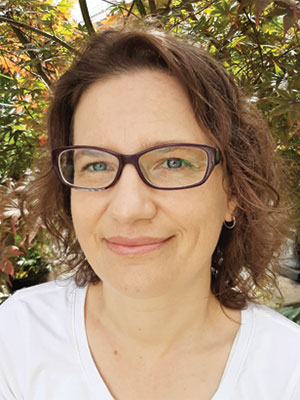 Assistant Professor (teaching stream) Buddhist Spiritual Care and Counselling
MPS Emmanuel College, 2022
PhD University of Toronto, 2017
MA Queens University, 2003
BA University of British Columbia, 2001
Registered Psychotherapist, CRPO, 2021
Associate Member, CASC, 2019
Contact:
Tel.: (416) 813-4096
Email: jennifer.bright@utoronto.ca
Teaching & Research Interests:
Jenny Bright joined the faculty at Emmanuel College in 2023, having previously taught courses in Buddhism and medicine in the Department for the Study of Religion, and courses on Buddhism and psychology for both Emmanuel and the Buddhism, Psychology, and Mental Health minor at the University of Toronto. Prior to her present appointment, Jenny worked as a Spiritual Care Practitioner in the Intensive Care Unit at Mt. Sinai Hospital. Her major research and teachings have centred on Buddhism, medicine, and healing in contemporary Asian communities. Lately, Jenny's research and teaching is focusing more on practical theology and spiritual care in the Canadian context, especially in regards to education and practice in hospital settings. She is also concerned with spiritually-integrated psychotherapy for PTSD and moral distress/injury for front-line workers and responders. Jenny is also a practicing psychotherapist.
Publications
"Science and Authority in Tibetan Medicine: Gönpokyap's Extraordinarily Special Features of the Human Body" (2008). In Buddhism and Medicine: Modern and Contemporary Sources, edited by Pierce Salguero. New York: Columbia University Press, 2019.
"'Female Nectar': A Study of Hybridity and Gender in Contemporary Tibetan Medical Literature on Menstruation." Asian Medicine 6, no. 2 (2011): 387–420.
Review of Secrets of the Vajra Body: Dngos po'i gnas lugs and the Apotheosis of the Body in the Work of Rgyal ba Yang dgon pa, by Willa Miller. Ph.D. diss., Harvard University, 2013, dissertationreviews.org/archives/7858, (2014).
Memberships and Affiliations
Member, Executive Board of Directors (Religious Ministry and Education), Toronto Buddhist Church
Associate Member, Canadian Association of Spiritual Care
Selected Courses
EMP2015 Buddhism and Psychotherapy
EMP3547 Mindfulness Modalities for Spiritually Integrated Psychotherapy
EMP2010 Buddhist Approaches to Mental Health
BPM339 Mind, Consciousness, and the Self