2020 Service Award Winner: Omar Patel Emm 1T7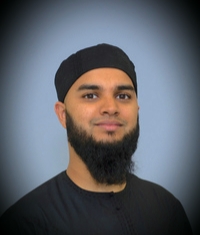 Omar Patel Emm 1T7 was named a 2020 Service Award winner by the Emmanuel College Alumni/ae Association for his work in the Muslim community as a chaplain and psychotherapist. EC Connects caught up with Patel to discuss his life and career since graduating.
EC Connects: You graduated from Emmanuel College in 2017 with a Master of Pastoral Studies. What you have been doing since graduating?
Patel: Wow, it's been 5 years already! It's been a wonderful journey so far. I am grateful to have been given multiple opportunities to serve the community. Upon graduation, the focus of my service was providing chaplaincy services to students at UTSC. Being able to facilitate psycho-spiritual programming for students on campus has definitely been rewarding. It was through this that I began engaging with other faith groups and acting as a liaison for the Muslim community and university administration.
In 2017, I was blessed to be called upon to serve as a psychotherapist and operations manager at the first Muslim Mental Health clinic in the GTA. I began providing services for the wider Muslim community and saw a great need to provide Muslim mental health care. Delivering workshops, programming, one-on-one therapy and marital therapy to Muslims across Canada has been my calling ever since.
In January 2021, a group of like-minded individuals came together and saw a need for a strictly virtual counselling platform and we created Canadian Muslim Counselling. Today, my time and service is distributed with The Muslim Chaplaincy of Toronto and Canadian Muslim Counselling.
EC Connects: How did your studies at Emmanuel College prepare you for this work?
Patel: The service that I am providing today is a direct result of the learnings and reflections of my time at Emmanuel College. The community at EC was warm and welcoming. I was pushed by my professors and peers to incorporate my theological background into an ever-evolving Islamic chaplaincy model. Having a mentor in (Chaplain) Ustadh Amjad Tarsin, visiting his office, working with him through courses and theologically reflecting with him shaped me to strive to serve the community the way he did. His presence was graceful and it was heart-warming to see the wider EC community provide space and accommodation for Muslims.
EC Connects: What impact has the pandemic had on the work you do? What have been the challenges? The successes?
Patel: The pandemic really changed a lot of the ways that I serve. I haven't been on campus in over a year! I miss the community of students, staff and faculty that I've had the pleasure of serving. We have gone fully virtual, which restricts how we can build community; however, it gives us the opportunity to serve individuals and students from campuses North America-wide. It's been amazing to have students from New York, McGill, Halifax and beyond reach out to us for support!
EC Connects: Are there any future projects you're thinking about/working on?
Patel: I'm noticing many individuals shuddering from loneliness during these challenging times. I'm also seeing many teenagers growing more and more frustrated with social interactions, especially interactions surrounding spirituality. It's been over a year with mosques either closed or at limited capacity.
We are working on programming that focuses on the reintegration of spiritual identities in Muslim youth whilst breaking barriers in social settings. The goal is to break bread and barriers as we build back our communities to a sense of 'normalcy.'