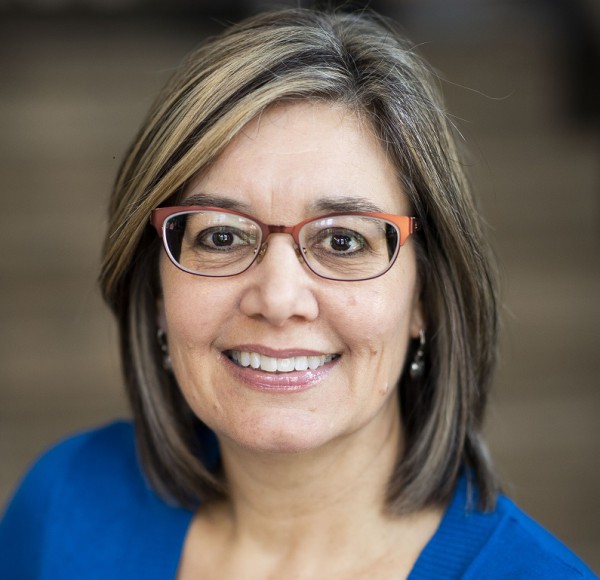 Emmanuel College bids a fond farewell to staff member Jo-Ann Graham. Graham joined the College in 2014 as an administrative assistant to past principal, Mark Toulouse. Her prior position was that of executive assistant to the director of Mississauga's Academy of Medicine, U of T. At Emmanuel, Graham was promoted to executive assistant to the principal, working for past principal, Phyllis Airhart, and current principal, Michelle Voss Roberts, who reflects, "It is hard to imagine Emmanuel College without Jo-Ann, whose presence in our community has been part of what defines Emmanuel College as a welcoming place to study and work."
Graham officially retires on July 30, 2021 but she and her husband drove out to Calgary in June. They will stay in Calgary until they have a new home built in Canmore, Alberta. "I have been out west a number of times and love the Banff area. My daughter, who lives in Calgary, has been having so much fun out here that she inspired us to move across the country," says Graham. "We looked at a lot of cities but decided to go for this!."
Selling her Mississauga house during COVID-19 was an interesting experience. "It was actually hard to donate things we didn't need any more since so many charitable organizations aren't operational. We had a lot of 'free garage sales at the end of the driveway," she says. "We loved our home and property but I won't miss all the gardening I had to do."
What Graham will miss, though, is the people at Emmanuel College. "Although it wasn't a large office," she says, "it was super busy and there was an amazing vibrancy to the work and to the people. I often joked I should be an octopus!"
Graham appreciated the collegiality of fellow staff and faculty members. "I found that I was truly appreciated as an administrator and felt a part of the team. Faculty, especially, treated me with respect. Also, I made so many friends with colleagues around the entire Victoria University campus. I'm sad that I can't say goodbye in person. I suppose already being separated from the office due to COVID-19 has allowed me to move on faster than I otherwise might have."
Graham says she also appreciated the amazing array of diversity at the College. "Working at Emmanuel really opened my eyes to an expansive degree of religious, cultural and sexual diversity. The milieu kept me open-minded and fresh. It really is a cutting-edge institution. I strived to deliver the ultimate service for a very diverse clientele."
When asked about her favourite accomplishment at the College, Graham is quick to point out that she helped usher in more modern technology. "I managed to encourage much more of an e-based approach to meetings, scheduling and overall data management. I convinced even the most reluctant colleague that programs such as Outlook were the way to go!"
All told, Graham is excited to see what a western Canadian lifestyle brings—from hiking along rivers to skiing the great slopes. "Time waits for nobody. I look forward to being active and will seize the opportunity while I am able. My husband and I can't wait to explore a new part of Canada. When things open up, we also look forward to touring Europe and other places."
Emmanuel College hopes there is a wonderful amount of activity in Jo-Ann Graham's future and the community wishes her a well-deserved retirement.