Alumnus Bill Fritz Recipient of 2021 Service Award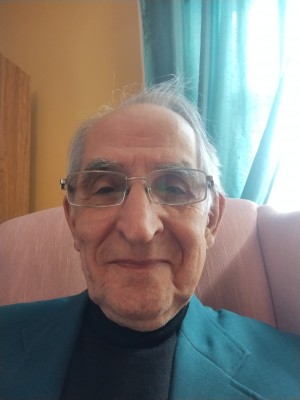 Community was always of great importance to Bill Fritz Emm 5T9 whether it was as an Alberta farm boy or his work in Ontario or East Harlem, New York City. He believes strongly that the church must be a part of the community in order to serve successfully. His work focused on forming the church as an active, open community in the surrounding community.
His path led him from a Catholic upbringing in Alberta to Hamilton, Ontario, where he graduated from McMaster University, sensing the call to serve in Christian ministry. After marrying his wife Joan, who he met at McMaster, he enlisted in the Canadian Air Force Reserve serving in Greenwood, Nova Scotia, and then completed his degree at Emmanuel College, becoming an ordained United Church of Canada (UCC) minister.
When he returned to Toronto after leaving New York, he served in Old Davenport Church where he focused on building and fostering community such as English classes for new Canadians, a day care centre for children and summer camps for youth. He inaugurated boys' and girls' homes to help support and guide youth who were struggling with their sense of well-being and life purpose.

As his work continued through the course of his calling, Fritz devoted his time to communities in need such as supplying medical teams for the Dominican Republic, creating gatherings for single people, welcoming refugees, sponsoring a high-rise apartment building to provide much needed housing and assisting persons with disabilities and special needs to integrate into the community.

Bill and Joan are now "retired" in Uxbridge, Ontario, but his work has not stopped! He still serves four small churches and responded to the increased need for community outreach since the beginning of the pandemic.

Fritz reflects on his days at Emmanuel College as a wonderful time in his life with outstanding professors and classmates. The sense of community-caring nurtured at Emmanuel endures in the way Fritz continues to serve his community today.
Fritz believes his purpose is to "find a need and fill it, find a hurt and heal it." It is a mission he has carried through his life in ministry, and throughout his personal life. He has devoted his life to serving the many communities that he has been called to—covering the world from Canada to the U.S.A. to the Dominican Republic and to South Korea.

Fritz describes the most rewarding part of his work as "seeing people embracing the heart and love of Jesus and extending it to others." The ECAA is pleased to recognize Bill Fritz for his strong commitment to the life of service and to honour him for the impact he has had on the lives of those around him.