Celebrating the Remarkable Career of Pamela Couture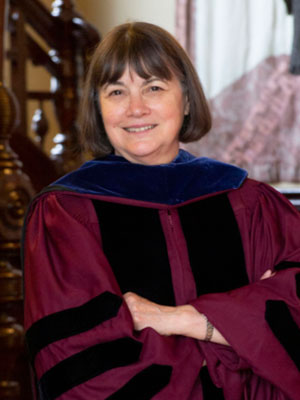 By Michelle Voss and HyeRan Kim-Cragg
Emmanuel College bids farewell to a distinguished figure in the world of pastoral and practical theology, as Pamela Couture embarks on a well-deserved retirement. While many will recognize her in recent years as the former executive director of the Toronto School of Theology (TST), Pamela's remarkable contributions and accomplishments throughout her illustrious career have left an indelible mark on Emmanuel College and the spiritual leaders she's mentored.

In 2010, Pamela was appointed as Emmanuel's Geoffrey and Jane Martin Chair in Church and Community. Prior to her tenure at Emmanuel College, she served as vice president of academic affairs and dean at Saint Paul School of Theology, honing her skills as a theological school administrator.

Guided by a strong sense of calling, Pamela's interior compass has enabled her to excel even in the most challenging of times, such as steering the seven schools of the TST through the University of Toronto's Quality Assurance Process (UTQAP), which involved significant updates to the consortium's graduate programs and administrative structure. In the realm of practical theology, she has left a lasting impact on this field and beyond. She helped organize the 11th Conference of the International Academy of Practical Theology at Emmanuel and the TST in 2013, bringing practical theology scholars from across Canada and the world to Toronto.

Her published works have delved into a wide range of topics, including the public sphere, family dynamics, music in pastoral care, children and poverty, and peacemaking practices in the Democratic Republic of Congo. Several of her projects received support from prestigious grants such as the Lilly Endowment, and she held the esteemed title of a Henry Luce Fellow.

Her experience in the Democratic Republic of Congo led to the creation of the book We Are Not All Victims, inspiring her exploration of narrative and creative non-fiction. She hosted the Creative Nonfiction Collective and organized sessions on spiritual life writing that continue to this day, fostering connections among individuals engaged in such work.

Pamela has played a significant scholarly role in the wider theological community. Serving on the review board of the International Journal of Practical Theology since 2010, she assumed the role of co-editor-in-chief in 2017. Through her work, she has left a lasting impression on several special issues and built networks of contributors and reviewers across multiple journals and guilds.

Her innovative teaching and curriculum development skills extended to the Master of Pastoral Studies program at Emmanuel College, where her signature introductory course, "Intro to Counselling and Spiritual Care Practice," and role-playing methods have shaped a generation of spiritual care providers in Toronto and beyond.

A staunch advocate for community-building within the College and the TST, Pamela fostered connections with intercultural awareness. Pamela's holistic support for graduate students and her collaborative efforts in mentoring faculty members, particularly women faculty, have been instrumental in shaping a supportive and vibrant academic environment.

Pamela's commitment to community extends beyond her professional endeavours. Known for her warm hospitality and genuine care for others, she has been a steadfast supporter and mentor to her colleagues. Her emphasis on fostering a sense of belonging has created a stronger and more vibrant community at Emmanuel College.

As she embarks on her retirement, the Emmanuel community expresses profound gratitude to Pamela for her invaluable contributions, wisdom and unwavering dedication. Her legacy will continue to inspire future generations of scholars, theologians and spiritual practitioners, leaving an enduring impact on the field of practical theology and the lives she has touched.

Emmanuel College wishes Pamela Couture a joyful and fulfilling retirement, confident that her legacy will continue to shine brightly in the hearts and minds of those she has influenced throughout her distinguished career.

---
Michelle Voss was the principal of Emmanuel College from 2018 to 2021. HyeRan Kim-Cragg is Emmanuel's current principal.
Photo courtesy of the Toronto School of Theology.