Emmanuel Grad Spotlight: Sheng Ping Guo Emm 2T1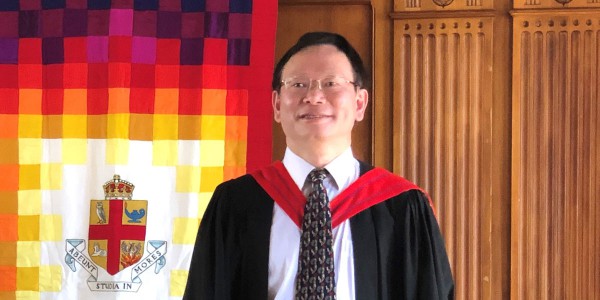 When Sheng Ping Guo Emm 2T1 joined Emmanuel College in 2014 to pursue his PhD in "Theological Studies in World Christianity and Mission History in China, Asia and the Global," he hoped his hard work would allow him to go out in the world and make a difference. As a graduate of the class of 2021, Guo remains steadfast in this commitment, with his eye on teaching and research.
Having completed his M.A. in East Asian Studies & Asia Pacific Studies at U of T in 2014, Guo made the choice to continue with his studies, and chose to focus his PhD on Christianity in China. He says he was drawn in by the open-minded culture at Emmanuel, as well as a faculty that he felt made the College a leader in the fields of Christian studies and mission history.
"I was really attracted to Emmanuel's liberty for academic research, and interculturalism for faith exploration," he says.
Guo adds that his decision to pursue his PhD in Theological Studies in World Christianity and Mission History was driven in part by his own lived experience.
"My cultural position is in that of an intercultural location within the eastern and western elements. I am the first generation of a Canadian immigrant. I have a hybrid cultural identity to work on and interpret the developing world Christianities, such as the Chinese and Chinese diasporic Christian history," he says.
"The PhD training in Theological Studies in World Christianity and Mission History gave me an effective tool to investigate why Christianity could enter another culture and become a worldwide faith in different cultural contexts."
Guo says that while many members of the Emmanuel College faculty played pivotal roles in helping guide him through his PhD, it was Prof. Mark Toulouse who was there from the start. Whether it was help in choosing his dissertation topic, to developing his thesis proposal and conducting fieldwork, Guo says Toulouse's guidance was invaluable.
"I remember moments when, as the principal of Emmanuel College and as my supervisor, Prof. Toulouse fostered my growth as a scholar and provided advice that bolstered my Christian character as a whole," Guo says.
Guo hopes that he'll now be able to make a difference in the world through his teaching and publishing.
"I want to change theological education, and make it a more eye-opening and open-minded style that reflects the reality of the shift in Christianity, from the developed world to the developing world. This is a kind of knowledge transformation for greater justice and for a better world."