Emmanuel PhD Students Launch Second Edition of Journal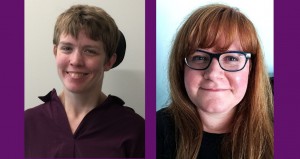 Emmanuel College PhD students Miriam Spies Emm 1T5 and Amy Panton recently launched the second edition of The Canadian Journal of Theology, Mental Health and Disability, a journal committed to breaking new ground at the intersection of theology and mental health, exploring disability using an interfaith theological lens. EC Connects asked Spies and Panton about founding and editing the journal.
EC Connects: What inspired you to undertake the extraordinary task of founding and editing this journal?
Spies and Panton: We wanted to create a space for people with lived experience of mental distress and other disabilities to get into the theological conversation around disability and mental health. We also hoped to open up a space for marginalized authors and artists to publish their work. We publish student work too! We are helping students find their way in the world of academic publishing. Finally, we have introduced a new "collaborative model" for peer reviews which enables authors and peer-reviewers to work together to strengthen manuscripts. As PhD students, we wanted to connect with others in the Canadian disability and mental health communities. While there are American publications, we felt that Canadian perspectives needed to be strengthened.
EC Connects: This issue looks at L'Arche and Vanier, disabled leadership, and harm against 2SLGBTQI communities. As you indicate in your editorial piece, this edition is "broad in scope," not only in terms of thematic matter, but also in the various modes your contributors engage with those themes. As editors, how do you work with such breadth in theme and form?
Spies and Panton: As we are editing, we are also learning from our contributors. We appreciate diverse contributions because there are multiple ways to enter the conversation around disability and mental health. We want to be accessible to as many readers as we can. Being open-access, our content can be read and viewed by anyone without a paywall or subscription. We hope this means people from all walks of life will want to engage with our content. Our editorial board members and peer-reviewers also provide us with valuable guidance as we are putting each issue together.
EC Connects: What do you find most rewarding about editing this journal?
Spies and Panton: Being able to have these conversations and boost the signal about theological ways of reflecting on mental distress and disability. We are also grateful to have a space where people with lived experience of disabilities can talk to each other and to people in congregations and academic settings. We have also become great friends who support one another in our own academic work (and beyond!).
EC Connects: Most challenging?
Spies and Panton: Keeping up with the deadlines that come with academic publishing. Because we both live in "crip time," sometimes the world seems like it's moving too fast for our bodies. We are challenged to take care of our bodies and minds as we tell our listeners and viewers to do likewise.
EC Connects: Can you give us a preview of what is to come in your next issue?
Spies and Panton: Our next issue will focus on the ways of thinking theologically about the medical model and medications that we take for our disabilities and mental health conditions. We hope to challenge and disrupt dominant ways that the medical model "imprisons" us. We want to disrupt who is considered the "expert," which means moving away from the physician/able-bodied/sane male as the person with all the power to tell stories and interpret them theologically.
EC Connects: In addition to editing the journal, you also launched this past May "The Mad and Crip Theology Podcast" as a side project that is linked to your journal. Please tell us more about your podcast.
Spies and Panton: On the podcast, we sit down to chat with theologians, artists, activists, writers and members of the mad/disabled community who are doing important work in Canada and around the world. This podcast is an opportunity to model how faith communities can engage in theological and spiritual conversations around madness and cripness. For accessibility, transcripts are included beside the podcast description. Watch the podcast with closed captioning on our YouTube page, or listen via Spotify, iTunes and other Podcast apps.