Evan Smith recognized for her work with Toronto Urban Native Ministry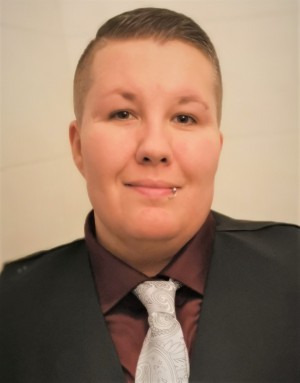 Evan Smith left home for Toronto's urban refuge following a gay bashing incident at age 18. She would struggle for a time with homelessness as she found her footing and the seeds of new belonging among Toronto's street-involved, urban Indigenous, and LGBTQ+ communities. Inspired to give back, Smith entered undergraduate study through the University of Toronto's Transitional Year Program and would find work in Toronto's shelter system.
In 2009, she yielded to a lingering urging. "I was raised in the Community of Christ … left the church for quite a while … and one day got the calling. God was like, 'This is not what I intended. Go and preach love!'" In the midst of a personal discernment, Smith reached out to a close friend, himself an MDiv student at Emmanuel, who encouraged Smith that her experiences as outsider, sojourner, and representative of varied communities long since estranged from the Church equipped her to be exactly the prophetic voice needed now. Just 12 weeks later, Smith was in seminary on early admittance.
Now serving since 2014 as one of three ecumenical ministers with Toronto Urban Native Ministries, Smith previously has served the United Church in various parish capacities including: youth minister at Hamilton's Stoney Creek United Church, community outreach minister at Toronto's Bloor Street United Church, and intern at Christian Island United Church. Her current work sees her serving in a decidedly world-facing context, with a focus on street outreach; harm reduction; sex worker rights advocacy; reconciliation; and ministry to urban Indigenous, queer, hospital, and corrections-involved populations.
Smith explains that extra-congregational work avails a flexibility to "meet people where they're at" – to take all of her own formative experiences and give back to those for whom the traditional model of church may be "triggering." She suggests that street ministry both challenges and offers the gift of seeing the work of God in new, unexpected ways; "to witness resurrection through Naloxone," she suggests.
Smith expects her work with marginalized groups to continue and anticipates an expanded focus in the areas of reconciliation, youth ministry and work with those currently or recently incarcerated. Serving on the Office of Vocation's Indigenous Candidacy Board and in a second term as the moderator's appointee to the UCC Foundation Board, she also hopes to encourage other would-be leaders to pursue a vocation in ministry. Recalling her own days as a new seminarian, she shares that "(Emmanuel) gave me a really solid footing for working in the Church, but I also think it gave me the opportunity to figure out the things that I didn't agree with which have shaped me." She cites that intellectual and theological latitude as critical to reclaiming evangelism as a task in service to the most vibrant, life-giving and radically welcoming Church possible.