Emmanuel Grad Spotlight: Matthew Boutda Emm 2T0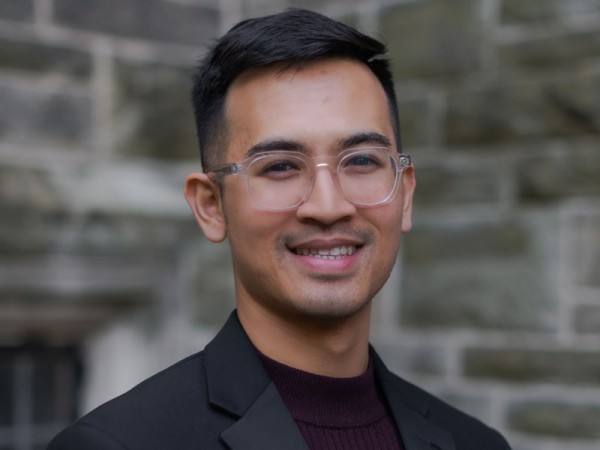 This month, we celebrate the graduates of Emmanuel College's Class of 2020 and Class of 2021 in the lead-up to our Virtual Convocation, happening May 20 at 2 p.m. Learn more by visiting the Virtual Convocation webpage!

Prepared with a Bachelor of Music degree from the University of Toronto, and an ARCT in Piano Performance from the Royal Conservatory of Music, Matthew Boutda Emm 2T0 was already an accomplished pianist prior to completing his Master of Sacred Music (MSMus) degree at Emmanuel College last year. Even still, Boutda says Emmanuel's program offered him a unique chance to continue learning, and to further expand on his lifelong passion for composing and teaching church music.
"Sacred music is something I always wanted to pursue, and I knew that Emmanuel's music program was the only one like it in the country," Boutda says. "In terms of academia, it was an opportunity to build on my musical education. It was a chance to do organ studies and choral conducting, and to expand my theological knowledge."
Like many Emmanuel students, Boutda says he found the College's close, tight-knit community, and the spirit of collaboration that came with it, truly beneficial.
"Emmanuel is really good at fostering relationships, and every professor I've been taught by has been awesome," he says. "One of my mentors was Prof. Swee Hong Lim, who runs the sacred music program. It has been wonderful to learn from him, and the collaboration and networking opportunities at conferences outside the school connected me with all the right people. The Master of Sacred Music program is really well-rounded, and it prepares you for the real world."
Along with the collaborative learning experience, Boutda says one of the most beneficial aspects of the sacred music program was the incorporation of technology into the curriculum. "One of the courses that I took looked at the use of technology in sacred music," he says. "Last year this was still relatively new. To see how important technology has now become for churches, and how much church music has changed, is quite stunning."
Boutda adds that in addition to his technology-focused coursework, finishing the last couple of weeks of his master's degree online greatly helped to prepare him for his future. Now working as the director of music and video editor at Leaside United Church, he has put his familiarity with Zoom and online learning tools to good use. While he admits it has been quite a while since he has been able to practise live with his congregation, that doesn't mean the music has stopped.
"At Leaside there was an opportunity to continue to rehearse virtually online," Boutda says. "I found I had a knack for video editing that involves our choir, and we've been sharing over 40 virtual choir projects since the start of the pandemic. It has been a special kind of joy to be able to work as an editor, and to see all of these wonderful faces and voices come together."
In addition to his work at Leaside, Boutda has also helped form a group of church musicians called Uniting Voices Collective. Together, the group works to sustain church musicians by connecting them online. While initially their goal was to offer free workshops on topics such as virtual rehearsing, they've since expanded their curriculum and have even started exploring topics such as mental health and how to prepare to safely transition communities back to in-person music-making.
Even though he has been able to make the most of the current situation created by the COVID-19 pandemic, Boutda, like most people, says he can't wait for things to get back to normal. For Boutda, the show really must go on. "What I think we've all missed so much is hearing a whole body of singers—a whole congregation—singing together in person. Making music live with a group of people, even just within our own choir, is something I really yearn for."
Hopefully for Boutda—and indeed for all of us—the chance to reunite with our colleagues, friends and family members is just around the corner.
Help us celebrate the Emmanuel College Class of 2020 and Class of 2021 with a virtual convocation and the installation of Victoria University's 15th Chancellor, Nick Saul, C.M., Vic 9T0, on Thursday, May 20 at 2 p.m. ET!