Emmanuel College Alumni/ae and the Christian Left Conference 2021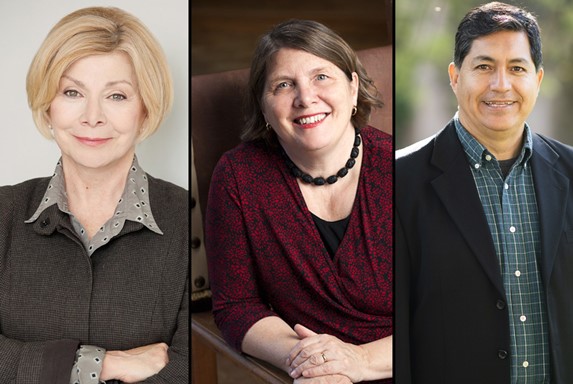 From left to right: Cheri DiNovo Emm 9T5, 0T2; Betsy Anderson Emm 8T7, 1T5; Néstor Medina Emm 0T8
What does it mean to speak of a Christian Left? Panelists and keynote speakers, Dr. Mayann Francis and Néstor Medina, will seek to address this question at the Christian Left Conference, happening July 23-24, 2021. Several Emmanuel College alumni/ae will be on hand at this event. Read more about their involvement in the conference and their reflections on this groundbreaking initiative:
Cheri DiNovo Emm 9T5, 0T2

Rev. Dr. Cheri DiNovo (Order of Canada), author of Lambda Literary Award winner Qu(e)erying Evangelism, and recently The Queer Evangelist, wanted to counter the rise of the Christian Right with a conference called The Christian Left. Along with the support of her church, Trinity-St Paul's Centre for Faith Justice and the Arts, DiNovo found a more-than-willing partner in Professor Michelle Voss Roberts from Emmanuel College. Thus the Christian Left Conference was born. DiNovo is delighted to moderate the panel on Storytelling, featuring keynote speaker Rt. Hon. Mayann Francis. Read more about DiNovo's The Queer Evangelist in The Toronto Star and Now Magazine.
Betsy Anderson Emm 8T7, 1T5
"I am so happy to be participating once again this year in the planning team for the Christian Left Conference co-sponsored by Trinity-St. Paul's, the congregation I attend in Toronto. Following my retirement four years ago as coordinator of Continuing Education at Emmanuel College, I have been thrilled to see how the work of continuing education has evolved under the umbrella of the Centre for Religion and Its Contexts. I have loved attending the diversity of events offered through the Centre and often in collaboration with others. I know in these COVID days, many of us have been able to participate in alumna/ae events online from across the country. July 23-24 is another opportunity for gathering and engaging with colleagues and a wider community in exploring what it means to "Rethink the Christian Left from the Belly of the Empire." Since retirement, I have been working part-time with St. Matthew's United Church in Toronto as Minister of Pastoral Care and Outreach. Like many congregations across the country, St. Matt's has been responding to the events of the last year-and-a-half with many actions of prayer, protest and witness. One exciting development is the creation of a Healing Garden–Noojimo'iwewin Gitigaan on the west side of the church building at the corner of St. Clair and Rushton, or 'Taking our Sunday morning Territorial Acknowledgement out to the street,' as one congregation member put it. We have been guided and accompanied by Elder Catherine Brooks in this journey of engaging with our neighbourhood as well as city, provincial and federal politicians. I am excited to participate in this Conference as a place to listen, reflect and share as we emerge from this COVID time of physical isolation with our hearts and spirits more committed than ever to undoing colonial heritages and reimagining many indigenous and liberating theologies for the Canadian context."
Néstor Medina Emm 0T8
Assistant Professor of Religious Ethics and Culture
"As a student and faculty of Emmanuel College, I became aware of its decades-old militant work for social change. In my keynote speech, I intend to highlight the Christian Left's long-standing history of activism and its present reconfiguration due to the emergence of newer actors. How well the Christian Left incorporates these newer voices while responding appropriately to contemporary challenges will determine its success in the future.