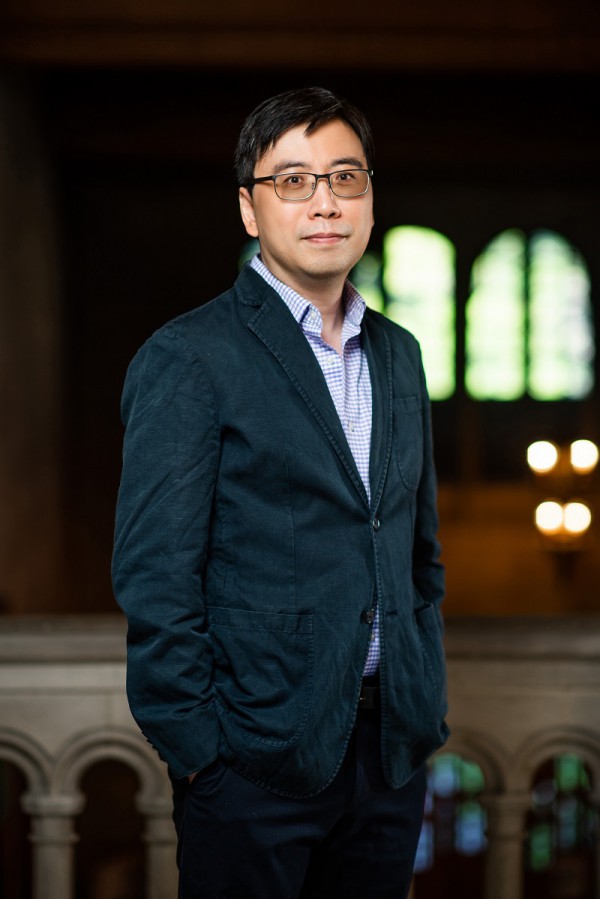 Shi Wu De Assistant Professor in Chinese Buddhist Studies
BA Department of Religious Studies, University of Toronto
MA Centre for the Study of Religion, University of Toronto
PhD Centre for the Study of Religion, University of Toronto


Teaching and Research Interests
Henry Shiu has a keen interest in the study of Mahayana Buddhism in India, China, and Tibet, particularly in the historical and doctrinal studies of the Madhyamaka and Yogacara traditions. His area of research specialization lies in the theory of the tathagatagarbha or Buddha nature. He also has a research interest in contemporary Buddhist movements, Buddhist Chaplaincy, and the development of Buddhism in Canada. He has been teaching at New College for many years, offering a variety of courses from Engaged Buddhism to Buddhist Psychology. In recent years, Shiu has taught courses at Emmanuel College, including Buddhist Contemplative Care, Buddhist Ethics, and Buddhist Meditative Traditions. His recent publication includes an in-depth examination and Chinese translation of the hymns of Nagarjuna.
Besides Buddhist studies, Shiu has also taken on research in Western classical music. Three books on this subject were published by Oxford University Press in Hong Kong. He is equally enthusiastic in the study of Daoist texts such as the Laozi and the Zhuangzi, and other Chinese classics like the Yijing (Book of Changes).
Selected Publications
Books
Zhushen de huanghun (《諸神的黃昏》, In Time with the Late Style), co-authored with Leo
Ou-fan Lee. Hong Kong: Oxford University Press, 2019.
Longshu zange ji miyi (《龍樹讚歌集密義》, The Hymns of Nāgārjuna). Taipei: Buddhall
Publications, 2015.
Putixinshi miyi (《菩提心釋密義》, A Study of Nāgārjuna's Bodhicittavivaraṇa). Taipei:
Buddhall Publications, 2015.
Yaoyue zhi le: Bahe Guodebao bianzouqu de yishu (《樂樂之樂:巴赫〈郭德堡變奏曲〉的藝
術》, J.S. Bach, Joy of Man's Desiring: The Art of the "Goldberg" Variations). Hong
Kong: Oxford University Press, 2014.
Selected Articles and Book Chapters
"Chinese Diaspora and Buddhist Women," in Sailaja Krishnamurti and Becky Lee, eds.,
Diaspora, Religion, and Women: Canadian Experience. Forthcoming.

"Non-Substantialism in New Confucianism: Mou Zongsan and the Awakening of Faith in the
Mahāyāna," Journal of Chinese Philosophy (volume 38, issue 2, 2011): 223-237.
"Buddhism After the Seventies," in John Harding, Victor Sogen Hori and Alexander Soucy, eds.,
Wild Geese: Studies of Buddhism in Canada. Montreal: McGill-Queens University Press,
2010: 84-110.

"Buddhist Animal Release Practices: Historical, Environmental, Public Health and Economic
Concerns," (with Leah Stokes), in Contemporary Buddhism, Vol. 9, No. 2 (2008): 181-
196.
"The Polarity In the Two Trends of Practicing Tibetan Buddhism in Hong Kong," in Monica
Esposito, ed., The Image of Tibet in the 19th and 20th centuries. Paris: EFEO, L'image
du Tibet aux XIXeme-XXeme siecles, 2008: 11-36.

Memberships
American Academy of Religion
International Society for Chinese Philosophy
Canadian Society for the Study of Religion
International Association of Buddhist Studies
The Association for Asian Studies
Selected Courses
EMT 1620HF History of Buddhist Traditions
EMT 1631HF Foundational Tenets and Practices of Buddhism
EMT 26311HS Buddhist Ethics
Other Information
Co-Editor of the Monograph Series in Sino-Tibetan Buddhist Studies, published jointly by the
School of Classics at the Renmin University and the China Tibetology Publishing House.