Emmanuel Alumnus Greg Daly Recipient of 2021 Arbor Award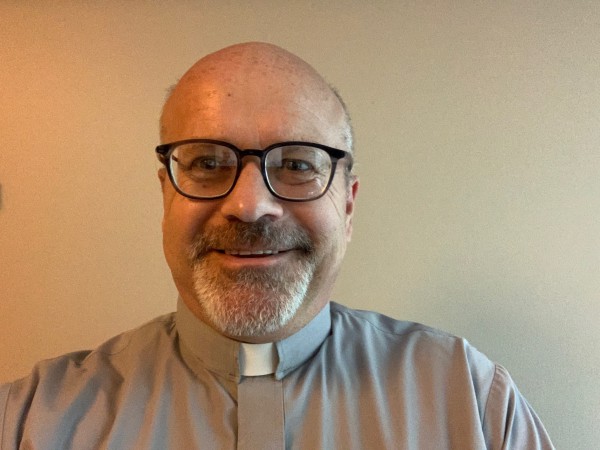 Greg Daly Emm 1T6, 2T1 is a recipient of a 2021 Arbor Award. The Arbor Awards recognize U of T volunteers who make valuable contributions to the experience of U of T students, faculty, staff and alumni/ae. As former president of the Emmanuel College Alumni Association (ECAA), he has contributed to the ECAA with tremendous enthusiasm. He was instrumental in leading the committee to form policies around the consideration of Equity, Diversity and Inclusion (EDI) principles when recruiting volunteers to the ECAA. Due to the COVID-19 pandemic, he selflessly committed to an extra year of service as president.
EC Connects recently caught up with Greg to talk about his studies, work and service.
ECC: You graduated from Emmanuel College in 2016 with a Master of Divinity (MDiv) and 2021 with a Master of Pastoral Studies (MPS). Tell me a little bit about what you have been doing since graduating.
Greg: Since graduating from Emmanuel College, I have been ordained in The United Church of Canada and served at churches in the Greater Toronto Area. I am currently the minister at Birchcliff Bluffs United Church in southwest Scarborough, with a focus on affirming ministry to seniors and youth in the 2SLGTBQ+ community. Birchcliff Bluffs United also dedicates space and resources to the Bluffs Foodbank, a community endeavour physically based in a space at the church.
I volunteer with Shining Waters Region as a pastoral liaison supporting communities of faith as they explore their mission and values in transition and am co-chair of the Region's equity committee tasked with gathering best practices to engage the work of equity in Shining Waters Region.
Linking past expertise in urban and regional planning with living our faith, I volunteer as the chair of the property and finance committee for the Toronto United Church Council.
ECC: How did your studies and the community at Emmanuel help prepare you for this work?
Greg: Emmanuel offered excellent grounding for living out my faith in an intercultural/interfaith context. This is particularly true in the community context where I am currently a minister. It is a transitioning urban area, which hangs onto suburban roots while grappling with urban challenges such as food poverty, homelessness and a lack of services for diverse populations. Sharing class space with a diverse student body has opened me to thinking beyond my own tradition, and helped me to establish a network of former classmates who are now colleagues.
ECC: What impact has the pandemic had on the work you do? What have been the challenges? The surprises/success stories?
Greg: Our community of faith continues to focus on virtual connections. All of us have likely experienced the challenge of reading a virtual room and finding meaningful ways to connect to a flat-screen. Learning new ways to reach out to folks who are unable to engage with technology inspires me to use the creative skills I have learned at Emmanuel College in my educational experience.
ECC: Are there any future projects you're thinking about/working on?
Greg: Continuing to find ways to foster meaningful connection through worship and community building is my current focus. I strongly believe that our experience of the pandemic further exposes societal inequity, and I am called to stand with those who live these challenges as I commit to speaking for change.