Emmanuel College's Professor Kim-Cragg Promoted to Full Professor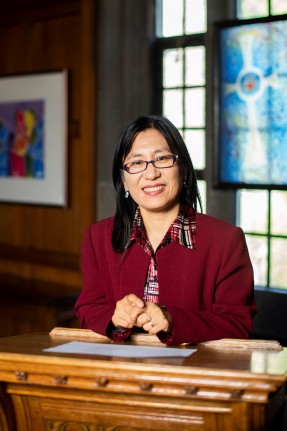 Emmanuel College is pleased to announce the promotion of the Rev. Dr. HyeRan Kim-Cragg Emm 0T6 to the rank of full professor. Kim-Cragg has held the Timothy Eaton Memorial Church Professorship in Preaching since 2019. Before she joined Emmanuel, Kim-Cragg held the Lydia Gruchy Professorship in Pastoral Studies at St. Andrew's College, Saskatoon for over 10 years. She is the first racialized person to be promoted to full professor at Emmanuel College, making this a truly historic moment in the Emmanuel College and Victoria University community.
Kim-Cragg's scholarship has been noted as exemplary among practical theologians for its integration of Christian practices—particularly preaching and religious education—with postcolonial, feminist, and anti-racist theories to address the urgent issues of our time. As an intersectional thinker, her interdisciplinary approach to homiletics has been groundbreaking. She has recently added to her already substantial body of published work the eagerly anticipated book, Postcolonial Preaching: Creating a Ripple Effect (Lexington Books, 2021). She writes,
Imagine that the world is like a lake. The Gospel drops like a pebble into its water, creating a circular pattern of ripples expanding out in all directions. Preaching can be effective in addressing postcolonial concerns if it is gentle but persistent, like small waves emanating from a Gospel truth. These gentle but persistent waves can stir up minds and move hearts with a call to change our way of living and interacting with one another. The book suggests that this ripple effect can be produced and reinforced using six preaching principles: Rehearsal, Imagination, Place, Pattern, Language, and Exegesis. (p. 5)
Emmanuel College's Centre for Religion and Its Contexts will host a panel to launch the book and celebrate her accomplishments on Wednesday, May 12 at 12:30 p.m. EDT. Register here.
Please join us in congratulating Dr. Kim-Cragg!