Emmanuel Professor's Trio Releases New Album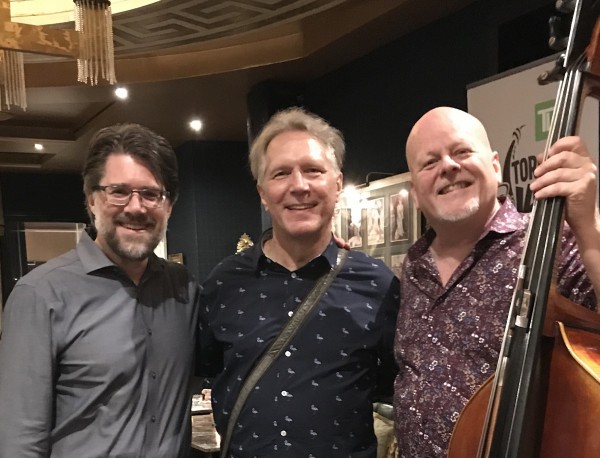 The Tom Reynolds Trio, comprised of Emmanuel College's associate professor of theology, Thomas E. Reynolds (piano), Lorne Nehring (drums) and George Koller (bass), recently released a new album, Open Skies.
Reynolds describes Open Skies as, "The product of music written during the COVID-19 pandemic. All the songs were composed as contributions to the remote/online worship services at St. Andrew's United Church, whereas we normally perform regularly on Sundays as a Jazz trio. They were spiritual and prayerful exercises, a musical way of responding to social and political events as well as personal experiences. The hope was to contribute something reflective of possibilities for resilience, kindness, and social change during a challenging and uncertain time, conveying emotional depth, positive and peaceful energy, and healing connection through sound."
Reynolds adds that "During the lockdown, the music was initially recorded in isolation, each instrument recorded sequentially, separately in our own homes (and not performed together). This past summer, we picked some of our favourite songs and recorded them in a Toronto studio. The music was performed live together in the studio for the first time, capturing something of the intimacy that happens in the spontaneous and risky moment of performing together. The synergy that occurred between us opened something special, something fragile and tender as well as vitalizing and passionate. Our deep hope is that listeners – in ways specific to their own journeys – might be carried along into 'open skies', resonating with expansiveness, connection, hope, and spiritual radiance. The music can be accessed on multiple platforms here.
This past summer, the trio also organized an interfaith worship service on the theme of transformation and music, as part of a project on jazz and spirituality sponsored through an Innovation Grant received from The United Church of Canada and hosted by St. Andrew's United Church. The service featured singers Hussein Janmohamed and Samidha Joglekar, along with the St. Andrew's choir under the director of Dr. Mark Ruhnke. The result beautifully exemplified how music can foster creative possibilities for collaboration and improvisation."